The ways and means today's marketers use to reach consumers is to largely generate curiosity for their products or services and thereby generate or drive traffic to the website. This is what is popularly known as search engine marketing. Search Engine Marketing also involves Search Engine Optimisation of your website, which forms the basic skeleton strategy to drive traffic to your website and remove roadblocks if any that are deterrent to
the same.
Paid Ads are the most sought after SEM tools that help generate traffic and also creates revenue conversion. Pay Per Click, Mobile Ads, Display Ads and programmatic ads are all means or channels of broadcasting paid ads and is chosen depending on the target audience and nature of service or product in offer.
Are your Paid ads achieving desired targets? If not then BluApples is the right choice for your spend being rightly made.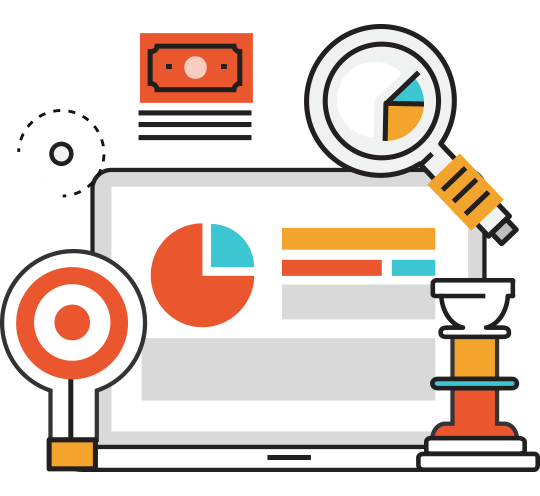 BluApples's biggest USP is that we constantly update on the current market trends and implementing the same. We constantly update ourselves to bring the best plans and cost effective techniques in making your pay per click ads highly efficient. The team works on researching the best keywords, making excellent bids and hence make your ads fetch you maximum returns.
The websites and their paid ads do not require mere traffic but the importance lies in the efficiency and relevance of that traffic. BluApples has exactly that required experience that can help you provide the relevant traffic rather than the useless one. The edge BluApples has over competition is the highly refined research process and the well trained technical team. These two
factors make us stand out in the service that we provide. The experts also pay attention to not just not only promotion but the choice of title and keywords in the ads. These play important role in fetching good traffic on your ads. We have in our team the best content writers who can provide you with appropriate and catchy titles that are far away from cliché and thereby give your ads the required boost.
The content, keywords, title, audience, budget everything is designed in correlation with the overall marketing plan and we strive in giving you more than 100% ROI on your paid ads spend.
Stages Of Work Our Working Process
03. Campaign Optimization
Bluapples came up with the design on their first try, delivered the complete package on a reasonable budget, and continued to fine-tune it. That wasn't enough -- they also created a plan to market the website and increase traffic that is already producing results.
We were especially pleased with their technical acumen and acquired knowledge of our products. The combination made for a highly collaborative working relationship. We would recommend Bluapples without hesitation.
The team at Bluapples acted more as business partners than 3rd party vendors throughout the process, which created an environment for success and a spirit of excellence. Their services are highly recommended for any new startup looking to turn a great idea into a successful reality.
PROMISE TO grow your business Grow your business with our solution based marketing